Thank you for visiting our website. If you're in our area, please stop in and worship the Lord with us!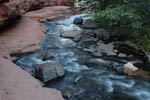 OUR REDEEMER LIVES!
CROSS CREEK DAILY DEVOTION
Posted by Gloria Critchfield on 04/11/2014

"But ye are a chosen generation, a royal priesthood, an holy nation, a peculiar people; that ye should shew forth the praises of him who hath called you out of darkness into his marvellous light." (1 Peter 2:9)



In our ongoing struggle for both survival and victory in this world, we do well to recognize that we are in enemy territory. While it is true that our Captain created the world—indeed, "all things were made by him; and without him was not any thing made that was made" (John 1:3)—and sacrificed His life to redeem it and will reign over it for eternity, it is also true that "the whole world lieth in wickedness" (1 John 5:19), occupied by "the prince of this world" (John 12:31) who is "the prince of the power of the air, the spirit that now worketh in the children of disobedience" (Ephesians 2:2).


The fact that we are surrounded by such darkness should come as no surprise, for before we were rescued by His grace, we too were part of the darkness—indeed, we had to be called out of it. John the Baptist came "to give light to them that sit in darkness and in the shadow of death, to guide our feet into the way of peace" (Luke 1:79). Furthermore, as Christ taught, "men loved darkness rather than light, because their deeds were evil" (John 3:19).


This confrontation overshadows mere human conflict, however, "for we wrestle not against flesh and blood, but against principalities, against powers, against the rulers of the darkness of this world, against spiritual wickedness in high places" (Ephesians 6:12). But, praise God, we have been called "out of darkness into his marvellous light" as described in our text. Although we may be still in the world, our King has "delivered us from the power of darkness, and hath translated us into the kingdom of his dear Son" (Colossians 1:13). "In him was life; and the life was the light of men" (John 1:4). JDM
TOO BLESSED TO BE STRESSED!
---